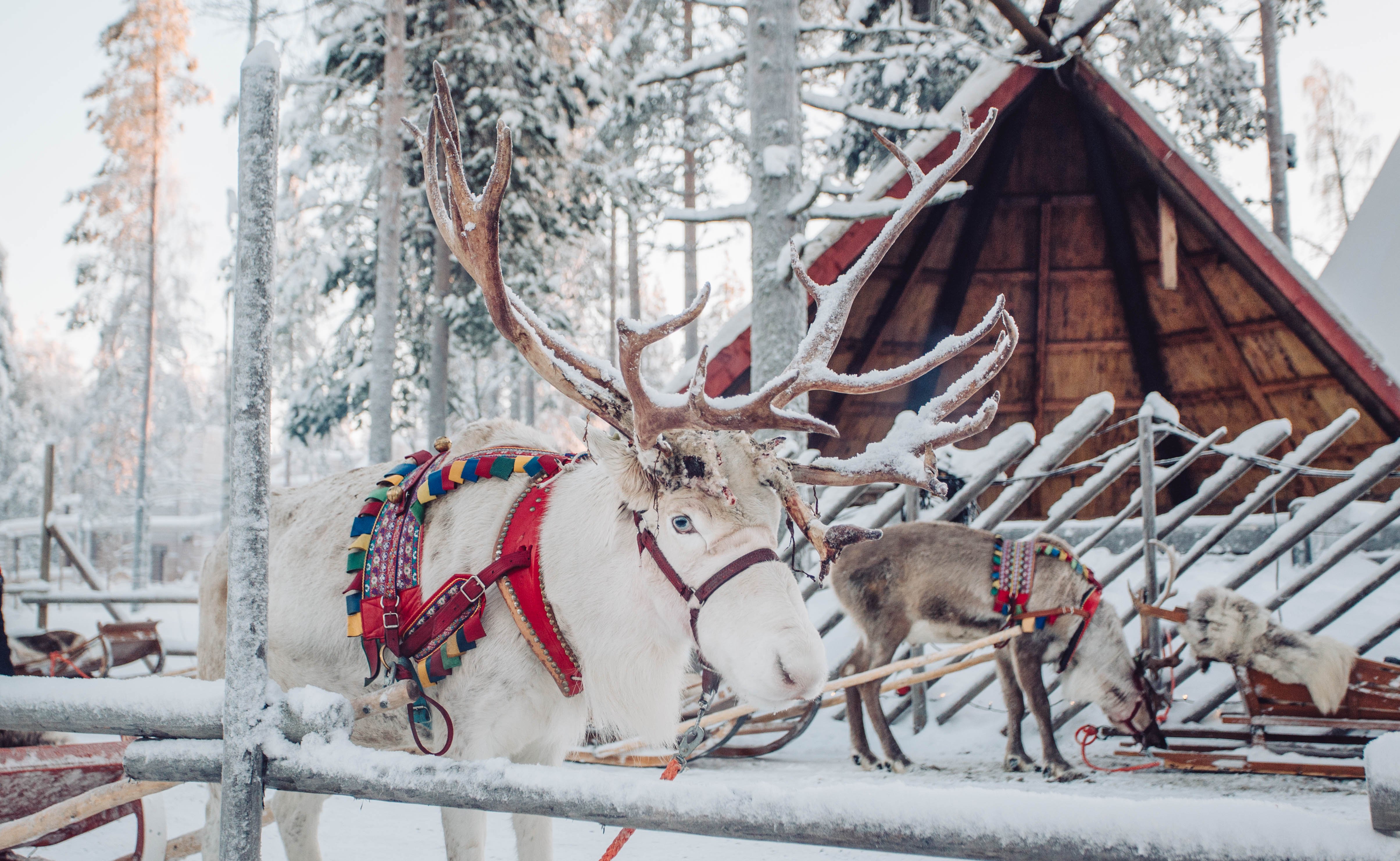 In Finland, Christmas is probably one of the most significant holidays of the year. Yes, it's a fact that from snowy Finland Santa Claus starts his Christmas journey. But beyond this, the winter holiday is a time for peace, calm, and spending quality time with dear ones.
Many Finns start preparations for Christmas even one month ahead. People decorate their homes, hang Christmas lights, and prepare to bring Christmas warmth and tranquility to their houses. In Finland, Christmas Eve is considered the most important day of the Christmas celebration, which usually brings together all family members. At home or at a countryside cottage, Finns families prepare Christmas dinner, dine together, enjoy the company of each other and unbox the presents. It is also common on this day that people would go to cemeteries and light candles on the graves of family members. Believers attend the midnight Christmas mass.
Deeply rooted in the Finnish culture, going to the sauna is something that could not be missed on Christmas. If initially, this activity was meant to cleanse the body and mind, nowadays it is hard to imagine a Finnish Christmas without a sauna.
Christmas Day Christmas Day is spent quietly at home, while on the 26th of December, called Boxing Day, people get more active. They visit friends or engage in outdoor activities such as skiing on frozen lakes or rivers. White frozen landscapes in Finland frame the perfect set-up for an authentic Christmas holiday.
Food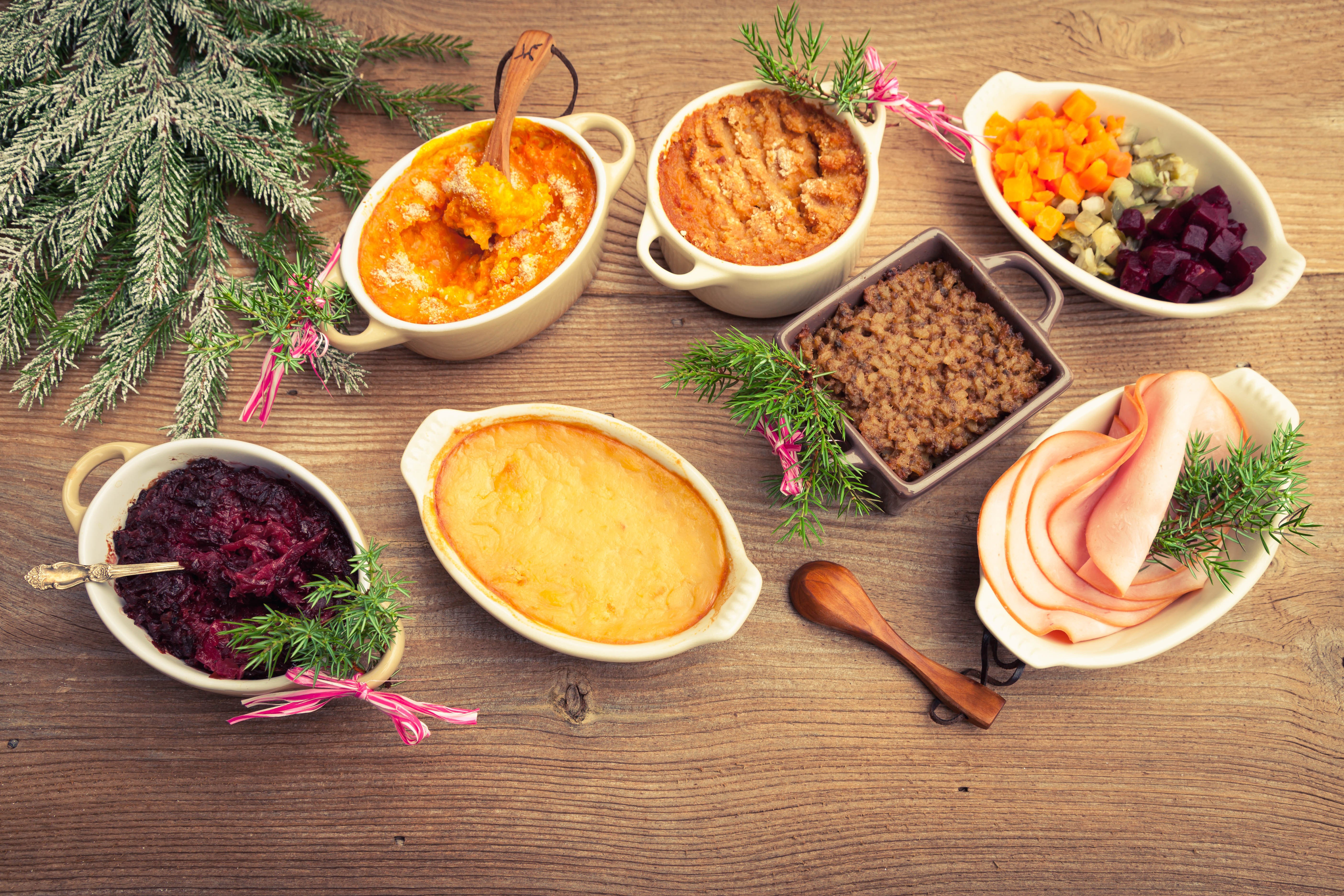 Finnish traditional Christmas dishes vary from region to region, but there are a few dishes that are an integral part of the festive season.
Oven-roasted ham served with mustard is an absolute must for many. Fish is also an important part of the traditional Finnish Christmas dinner. Other dishes paired-up with the fish or pork ham include classic beetroot salad and various roasted root vegetable dishes, such as the famous swede.
The Finnish Christmas table is never short of sweet pastries, such as tarts with prunes, and rice pudding, which is mainly eaten for breakfast. One of the most popular Christmas activities is decorating gingerbread cookies, which then hang on the Christmas tree.
The popular Finnish Christmas hot drink is "glögi" – a type of mulled wine. It is usually made from red wine or fruit juice mixed with spices, such as cardamom and cinnamon, and is served with almonds and raisins.
Christmas Tree and Santa Claus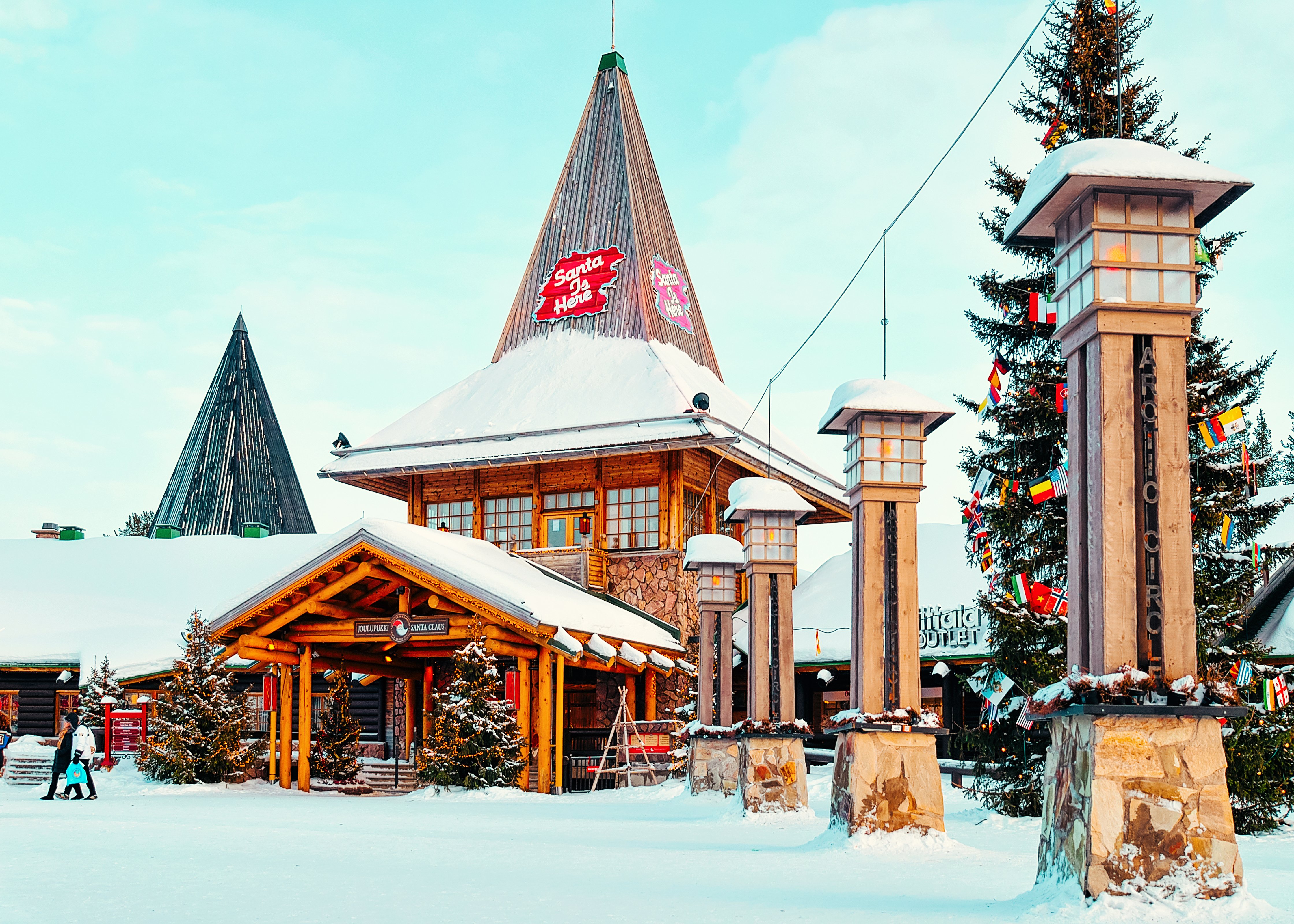 Christmas tree is a must-have in each Finnish household. Decorated with beautiful ornaments and various multicolored lights, it brings joy and bliss to the people. The main character of the winter holidays all around the globe, Santa Claus is starting his gift-giving journey from Northern Finland, Lapland. In case you did not know, all the letters addressed to Santa are going straight to his office in Rovaniemi. At his official home in Lapland, you can meet him in person. And in Finland Santa knocks on the door instead of coming from the chimney!
Christmas in other parts of Europe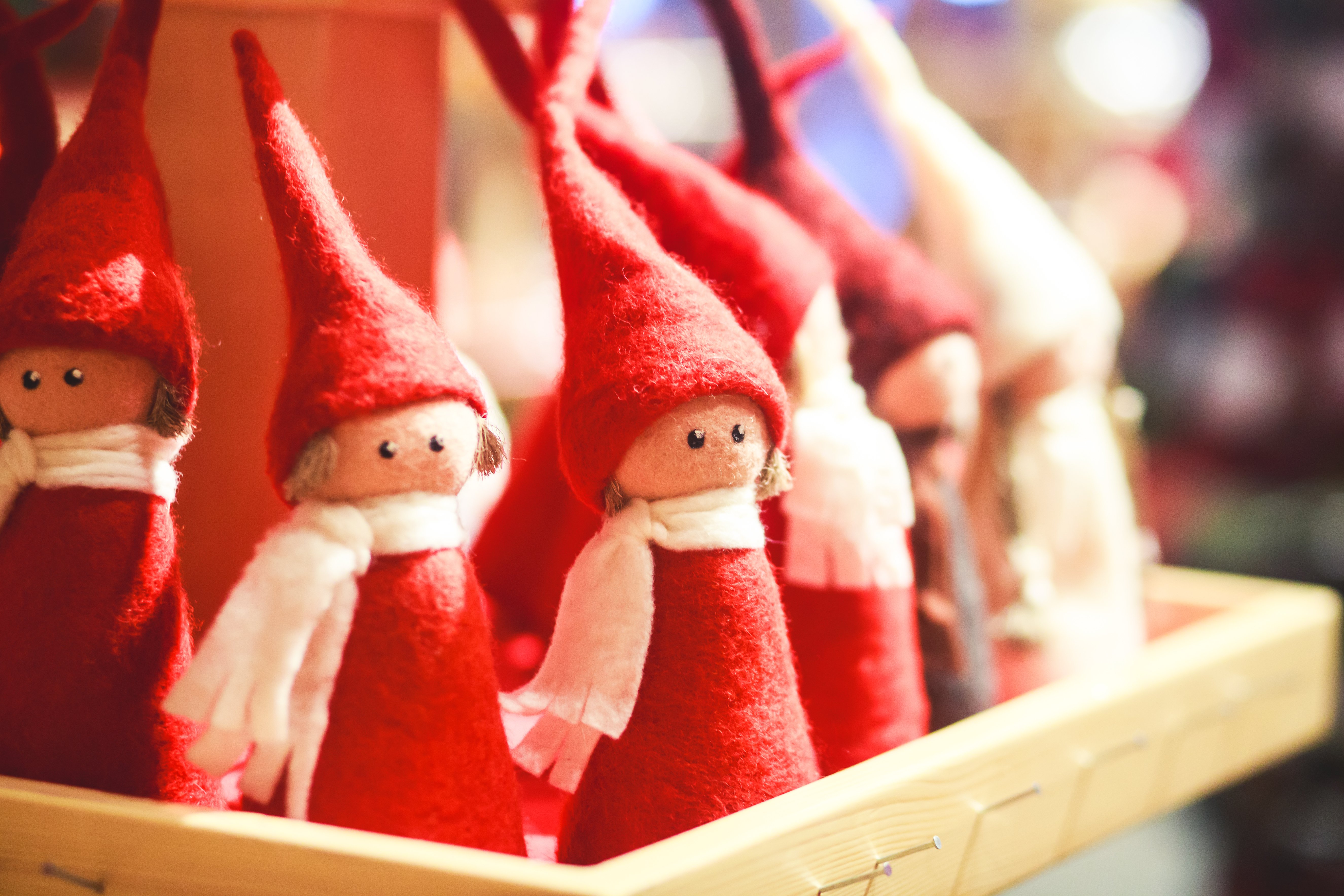 Slovakia
Like in Finland, people in Slovakia spend Christmas together with their nearest and dearest. They decorate the tree, brighten their homes with Christmas decorations, and bake various biscuits they offer to Christmas visitors. For Christmas Eve dinner on the 24th of December, most people eat cabbage, potato salad, and fish. After dinner, the family members all open the presents they prepared for each other from under the Christmas tree. Later, they watch fairy tales or a film and enjoy family time. Believers usually go to midnight mass. The next day, the 25th of December, they usually visit their loved ones and enjoy the festive time with the family circle.
Romania
As in most countries, Christmas is celebrated in Romania on the 24-25th of December. It starts with Christmas Eve when Santa Claus (Mos Craciun) arrives at each house, with a bag full of gifts for the smallest members of the family. Normally the presents are left under the Christmas tree, and many children are challenging themselves and trying to stay awake to catch Santa in action.
A Christmas tradition that spans centuries is caroling (colindatul) – a real Christmas gem in Romania. From smaller or bigger groups of children going caroling from door to door to big adults choirs singing carols in churches, this tradition is still kept alive in Romanian cities and villages. As remuneration for their performance, carolers normally receive small food gifts, such as fruits, nuts, cookies, or glasses of wine for adult carolers. It is common nowadays that they also receive some symbolic amount of money as well.
Carols vary depending on the region, but all of them are themed around the birth of Jesus. In addition, in different areas of Romania, the carols might come accompanied by other rituals, dances, and theatrical performances, such as The Star Carol (Steaua), The Goat (Capra), or The Bear (Ursul).
When it comes to food, for Christmas Romanians have on the table traditional pork specialties, stuffed cabbage leaves, but also desserts such as traditional fluffy cake with walnut cream or poppyseeds.
Poland
Christmas in Poland starts on December 24. When the first star appears in the sky, families begin the celebration by sharing the wafer and wishing each other. Interestingly, according to tradition, it should also be shared with animals - domestic and farm animals - because Christmas Eve is a day when animals can speak with a human voice.
On a traditional Polish Christmas Eve dinner, there should be 12 dishes (as many as months, or according to another version, as many apostles) - all fast. Typical dishes include red borscht with dumplings, mushroom soup, cabbage with peas, dumplings with cabbage and mushrooms, fried carp, and kutia (a dish prepared with wheat, poppy seeds, and various types of nuts, raisins, and other dried fruits).
As a Polish Christmas custom says, one shall leave a free place at the table for an unexpected guest. It is believed that no one should be alone on this special day, so if someone knocked on our door on Christmas, there would be a place waiting for them, and they would be welcomed as a family member.
The last point of the celebration on December 24 is the opening of gifts and for many a visit to the church usually at midnight for a mass called "Pasterka".
The next two days - December 25 and 26 - are packed with family meetings and gatherings. Therefore, when spending Christmas in Poland, you have to be prepared for the fact no one leaves home hungry.