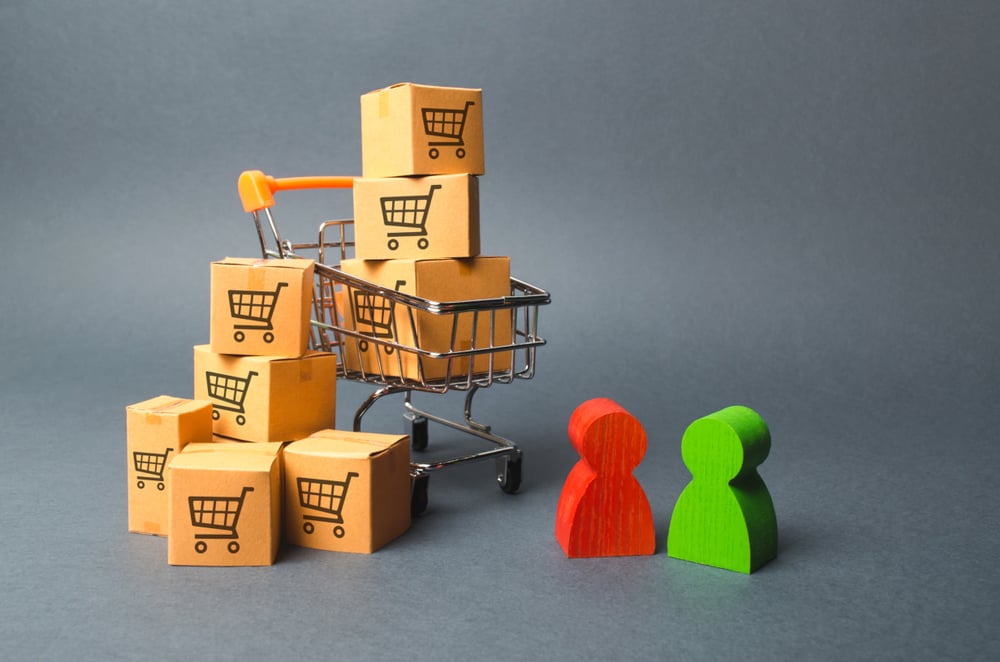 If you are considering moving to Finland, probably at some point you will ask yourself – is Finland an expensive place to live? So how tempting is it to work and live in Finland, taking into account monthly expenses and costs? Before you decide on the big move, here are the most important aspects of living expenses in Finland, summarised and documented with real examples and cost references. So, let's break them down together.
HOUSING COSTS
Housing expenses are probably among the top priorities when relocating to a new country. The rental costs in Finland, as everywhere else, vary a lot based on the region (distance from the capital), and area (urban or rural locations). In general, the average apartment rental prices can range from 13 to 25 EUR per square metre. If you rent an apartment in Finland, you will see that, in practice, this cost is influenced by several factors, among which are surroundings, size, and condition of the apartment. Here are some examples of the apartment rental prices: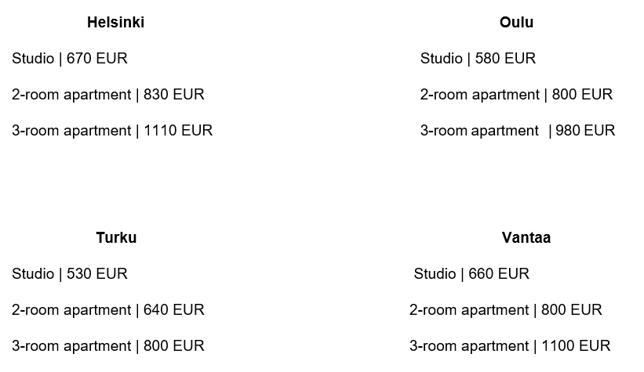 On top of that you should add the monthly utilities (electricity, water), which round down to 50 to 75 EUR per person. For the internet, you would have to pay 20 to 30 EUR/ month.
In case you want to check the market prices in real-time, here are a few sites for apartment rental:
TRANSPORT COSTS
A monthly pass for public transport costs, depending on the zone, from 52 to 97 EUR, while a one-way ticket costs 2.80 to 4.20 EUR. Children have a discount of about 50% on the ticket fares. Also, the parents entering the bus with a baby stroller are enjoying a free ride. Transport tickets can be easily bought via mobile applications, as Finland can praise itself as one of the leading EU countries in terms of digitalisation. However, for those who prefer a monthly transport card, this option is also available.
Public transport in Finland is used by most of the inhabitants, as it is reliable, safe, and on time. But if you are a car owner, then you need to know that petrol prices are about 2.10 EUR (95 petrol).
GROCERY PRICES
Food and non-alcoholic drinks have about 20% higher costs compared to the average EU grocery costs. However, many grocery stores offer 30% discounts on products that are going to soon reach their best before date. Buying them allows you to spend less and also reduce the amount of food waste. Here are some examples of basic food products and how much they cost: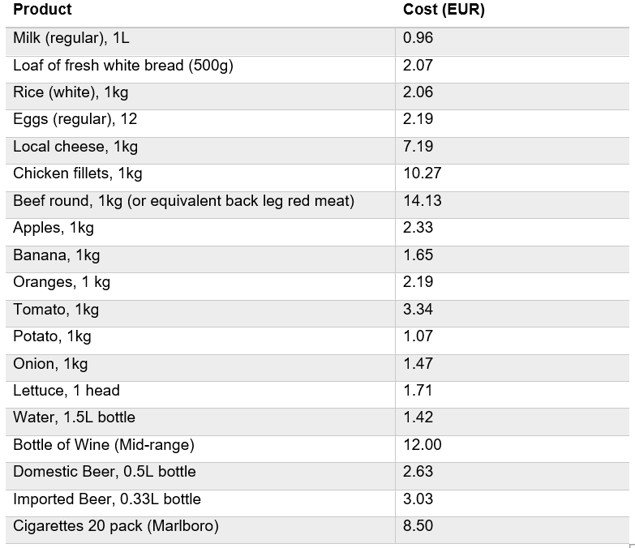 On the other hand, for alcohol, you would have to spend about 80% more, compared to the average EU prices, and tobacco costs are 17% higher than the average EU costs. A curious fact about Finland is that in this country you will not be able to buy alcoholic drinks from regular grocery stores — well, almost! You would be able to buy only drinks under 5.5% alcohol by volume, like beers and some light wines. And the cashier always has the right to ask for and check your Identity document, and in case you don't present it, you will not be allowed to get out of the store with any alcohol. That's true, actually! The only place where you can buy stronger drinks is the state-owned alcohol store – Alko. This is based on a strict alcohol policy in Finland, aimed at controlling internal alcohol consumption.
EATING OUT
Here is where a big chunk of your money will go. Or, not necessarily? Eating out is generally expensive in Finland, e.g. a dinner main course costs about 17 to 25 EUR. But there is a workaround for eating outside on a lower-cost – the lunch menu. It's very common that many restaurants and canteens in Finland offer at lunchtime special menus, often buffet, where you can get big and rich meals for a total cost of around 10 EUR. When it comes to dinner, Finns try to keep it budget-friendly, and they normally eat at home, with their families.
A fast-food menu costs about 7 EUR, while for a coffee and some pastry in a coffee place you would have to get out of your pocket about 7 to 8 EUR.
OTHER COSTS: SHOPPING, HOBBIES, CULTURE AND FUN
How expensive is clothing in Finland? Here we also talk about slightly higher costs compared to other EU countries. For example, for a pair of jeans, you would pay 85 EUR, for a summer dress about 35 EUR, and a pair of running shoes – 80 EUR. Of course, you could always hunt for discounts, as during promotion season you can buy clothing items at a 50% to 75% reduction. Nonetheless, if there is one thing in which you should invest, it is good winter clothing. High-quality winter clothes and shoes will make a difference in your enjoyment of the cold period. Or, as Finns love to say – there is no bad weather, only bad clothing.
It can be hard to estimate how much one could spend in Finland on hobbies and fun, as this depends on individual lifestyle, passions, and spending power. But a list of the most common leisure and services prices is below: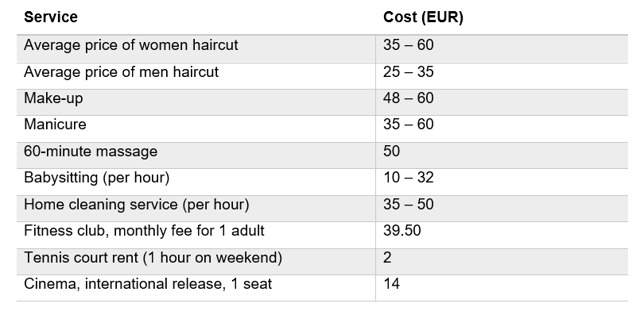 Now, after you have been walked through the monthly expenses per different categories and different locations in Finland (we took the country average media), you are in a good position to wrap your mind around it and decide for yourself how the cost levels are in Finland. Of course, before arriving at an objective conclusion, you would need to have all the information concerning your expected salary range and income. We make sure to specify the salary level for each of our open positions. You can check them out here.
If you want to know more about taxes and how the taxation system works in Finland, you can check out our next blog post.
References:
https://www.numbeo.com/cost-of-living/country_result.jsp?country=Finland
https://www.finlandprices.com/cost-of-living-finland/
Topics: Life in Finland, Work life in the Nordics