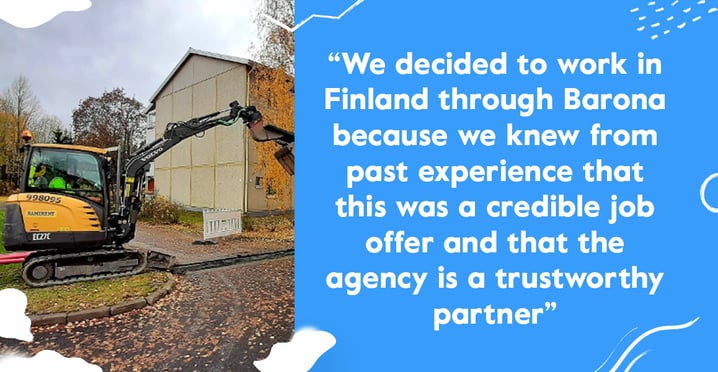 You can travel to Nordic countries either alone or with your family. Milan (father), Lukáš and David Krejčí (sons) are great examples of a family who decided to set off together on an adventure. Thanks to the personnel agency Barona these guys traveled to Finland to work as shovel man and excavator operators. As we were curious about their experience, we did a short interview with them:
Do you remember the moment you learned about the possibility of working in Finland?
We found the job offer on the Slovak job portal. As one of us (father) has already been to Finland through Barona, we were able to contact the consultant directly and got all the necessary information about the job offer.
We decided to work in Finland through Barona because we knew from past experience that this was a credible job offer and that the agency is a trustworthy partner. The job offer was financially attractive, too.
Did you apply all together or was it an individual matter for each one of you?
From the beginning, we wanted to go together. We also had one friend who wanted to join us. However, the final decision took a while, each of us had a job in Slovakia. There was some hesitation at some point – one of us was not 100% sure about leaving a good job and had doubts about whether taking a "leap of faith" is a good idea. In the end, however, we all did it together and we do not regret it. Of course, family support has played a big role.
Father: Personally, I would not push my sons into this job offer if I did not have a previous positive experience with Barona. If I knew that the agency misleads or fails to pay the salary, I would certainly not persuade my sons to go ahead with this. I was sure that the job offer is real and that there was no shady business going on. I follow a motto that you should seize the opportunity while it is there.
So, what played a key role in you finally deciding to accept this job offer?
Probably the financial aspect, in Slovakia you simply cannot make as much money as in Finland. With a short-term contract, tax conditions are very favorable, so it is really worth going to Finland for seasonal work. One earns as much in a few months as in Slovakia in 2-3 years.
You can live off the first paycheck and save the money from the others even though the prices in Finland are slightly higher than in Slovakia.
What were the first weeks like in Finland? Did anyone help you settle down after your arrival?
Definitely interesting, especially because in the spring months days and light are very long. It took us a while to get used to it, but we managed it 😊. At the end of the working season, the situation was quite the opposite of what we experienced at the beginning: very little light. You get up, it is dark outside, you come home from the work, and it is also dark outside.
As for our arrival, Barona helped us a lot. HR Coordinators from the agency were waiting for us at the airport and helped us with the work-related paperwork. For example, they accompanied us to the tax office and waited with us until we were done. Then they briefed us on what to expect and got us a taxi that took us to the place we were supposed to live. Later on, they brought us the things we need for work (helmets, overalls ...). We didn't have to take these with us from Slovakia, which was nice, especially given the airline's luggage limits.
The HR Coordinators were there for us all the time. If we needed anything, we contacted either Monika (a consultant from the Slovak branch) or consultants directly in Finland.
How long have you been in Finland? What exactly was your job?
From May to October, about a quarter of a year. We mainly did excavation work, two of us worked on excavators, and one did manual digging. As a group, we helped each other, also with hand digging. It is a great help when people know each other, they tend to help more, especially given the nature of the job.
Of course, we were also motivated by the approach of the agency – they were highly professional and provided us with everything they promised at the beginning. The payment always came on time, sometimes a day - two earlier. Such an approach is not common, we must say.
What about the work team? Did you make any friendships that lasted?
Yes, we had a Polish colleague there with whom we are in contact to this day. Sometimes we speak on the phone. We also remember well our Finnish foreman. We sometimes chat on Facebook, he was a very nice person.
How do you perceive Finland as a country? Did you fill your free time with some typical Finnish activities?
Finland is a nice country, there are good people there. When we worked there, we never had a problem with the locals, quite the opposite - they tried to help us when they saw that our English is not the best.
As we only had a company car available during our stay there and we did not want to misuse it for private purposes, we only made smaller trips by train: to the sea, to Helsinki ... As for typical Finnish activities, Lukáš visited a sauna that was part of our apartment complex, David and his Polish colleague occasionally went fishing, which was also a great experience thanks to the beautiful surroundings. Nature is definitely a big plus, you are surrounded by forests almost everywhere, it is something completely different from what we are used to in Slovakia.
There were also nice trails for running or cycling and very good conditions for any kind of sport.
Would you return to work in Finland?
Without hesitation 😊
Would you also recommend Barona to other people?
Definitely yes. I have already told some people about the agency.
Topics: Work in Finland, Life in Finland, Employees insights, Career zone